Lifeway Solar Products
Lifeway Solar Devices Pvt Ltd. offers new age products and technologies for the new millennium. Solutions those are both affordable and reliable. That transcends the limitations inherent in traditional energy systems, shortages pollution and inconsistent quality. Photon seeks to address those niche energy needs that are not required as inadequately serviced by conventional power systems. Photon Solar's Photovoltaic products and systems - lanterns, lighting systems for homes and workplaces, water pumping systems, street lights, power plants etc.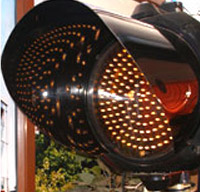 LED Traffic lights with poly carbonate body. Signs of Direction in green, also red, amber lights 300mm Dia, UV stabilizer lens, operating in 12/24V. Micro processor based real time memory with battery back up, built in Data entry key board, count down timer. Photo Voltaic Module charger and battery. GI pole, Height - 2m to 6 m.